MobiGoIn goes to Brussels to the Cluster-Go-International Launch event and the Joint Kick-Off Meeting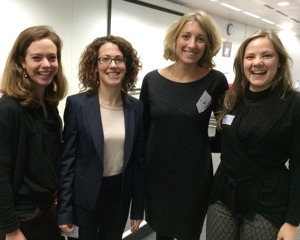 MobiGoIn, represented by Chiara Ferroni and Silvana Sanfeliu Giaimo from Torino Wireless and Vinciane Meroux from Mov'eo, attended the Cluster-Go-International Launch event and the Clusters KoM last week (8-9 March 2016) in Brussels.

The first day – Launch Event

It started very well with the project MobiGoIn receiving the label of European Strategic Cluster Partnership – Going International (ESCPs-4i) awarded by the European Commission, DG Growth and the Executive Agency for SMEs of the European Commission.

The ESCP-4i are transnational cluster partnerships that develop and implement a joint internationalisation strategy and support SME internationalisation towards third countries beyond Europe. They aim to develop common actions and an implementation roadmap as part of a long-term cooperation agenda. During the day, we learned about some important support services to help cluster partnerships engage in industrial cooperation with third countries, which will be really useful when approaching the international markets that MobiGoIn will choose as targets not only through an analysis of the potentialities of the smart mobility markets of the world but also taking into consideration the know-how, prospects and interests of the SMEs involved in our Consortium clusters (for doing so we created and launched a survey regarding SMEs internationalisation status, interest and goals). We then participated to Break-out sessions: Collaboration opportunities between cluster partnerships per target markets where Vinciane attended to Mexico and India; Chiara attended to USA and Japan, and Silvana attended to Brazil and Other Latin American Countries (more interesting countries are Colombia, Chile, Costa Rica and Peru). From these discussion sessions we gathered some interesting information about the different countries we are interested in approaching with MobiGoIn's internationalisation strategy; right now the list is long, the idea is to have it narrowed down in the second semester of this year. The day ended with a networking cocktail with all the participant clusters and some delegations from international countries.

The second day – KoM

This session had a more operative approach, it was aimed at presenting all the co-founded COSME Cluster-Go-International projects with all the required information to better manage and coordinate the projects in order to assure the best results. We met out Project Officer Silvia Alvarez Santos (see picture) and some of the partners of all the other 14 projects. There was also a 5-minutes presentation of each project, which was really interesting and useful to know what are the objectives and goals of the other projects and how to create synergies and connection with them.

Both days we were able to meet new clusters from all over Europe and create new collaboration opportunities for our clusters, and more importantly, for our project MobiGoIn!