MobiGoIn's Italian Focus Group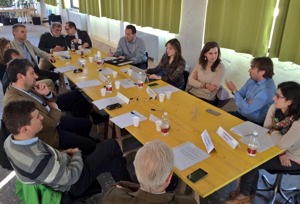 The first Italian Focus Group: 'Mobility Goes International' took place in Torino, Italy, on the 27th April 2016, was hosted by Torino Wireless, MobiGoIn's project coordinator, and saw the participation of 12 people representing 9 companies (start-ups, SMEs and 1 large company) interested in the internationalization of their solutions and applications regarding the Smart Mobility Sector: Adicom Group, Boxsharing, Bringme - Jojob, Bylogix, GESP, SSB Progetti, Studio Mi.Da, SWARCO MIZAR and T&T Elettronica.

The event started with the presentation of MobiGoIn project, in specific, its goals and objectives aimed at supporting SMEs in their path to internationalization. An Italian-borned company was then invited to talk about its internationalisation experience and how it went from a local reality called Mizar Automazione S.p.A., founded in 1981 in Turin, Italy, that develops software solutions for monitoring urban traffic to being SWARCO Mizar (part of the SWARCO international group, specialized in the design, development and implementation of advanced telematics systems. Some of the advantages that SWARCO MIZAR has found, after becoming a worldwide recognised small company, are the opportunities regarding calls for funding that have open up for them.

The Focus Group session started with a quick presentation of each participant in which they talk about the company's core business, its solution regarding Smart Mobility and their internationalisation experience, if they had one. The group was really balanced, with competences and experience that cover all the segments of MobiGoIn's Smart Mobility Focus. The discussion focused in 3 main topics: countries of interest to be approach, type of clients/partners to search in the third-country, and which strategic services companies retain to be more important and efficient when preparing to and approaching a new geographic market. It came out that the internationalisation strategy should be design as a path to be follow, including different steps and services depending on the readiness level of the company. A common thought expressed by the participants regards the need of Italian companies to become team players, and to have the cultural differences and usages in mind when approaching a new market.