International Networking event in Stuttgart 30 /11- 1/12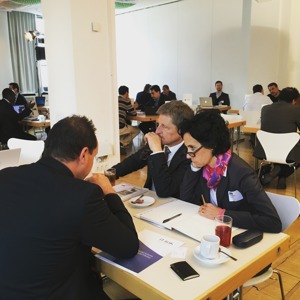 Last week Bwcon together with Business France organized an International Networking event for companies within the MobiGoIn project. Except representatives from MobiGoIn (Bwcon, Move'o, Media Evolution & Torino Wireless) there were German and French companies with us.

The first day, Christoph Sturmer, from PwC initiated the two days with presenting PwC's Connected cars study, where he showed us mapping of the field in connected cars and automotive cars technology and what it looks like today and what the predictions of the future are.
The second day, Move BW initiated with a talk about Boosting Intermodal Mobility and optimizing urban mobility. Then there were a B2B matching held were the different companies got to choose who they to wanted to meet during a sort of speed dating. 34 companies participated in total during these two days and a lot of new contacts were made!

We're very satisfied with these two days of networking and want to thank all of you that participated and contributed.

If you want to get in contact with some of the participating companies, contact us. There will be a new matchmaking event in Sweden 31st of March, and if you're interested to sign up or just want to know mores end us an email!

Participating companies:
Adaccess
Blackforestlightning
CAR & D
Data Driven Company
Heidelberg Mobil International Gmbh
HighQ
Französische Botschaft
Eliocity
Freshmile Services
HEATSELF
GlobalSensing technologies
ID4CAR
INNOV-PLUS
IT Link
ITS Hessen .e.V
Jtd
LutB
Marben
Motor-E
Nexyad
Oktal
Pole Vehicle du futur
PriceWaterHouseCoopers
PvF
Spirops
Technology&Strategy
Transpolis
Wezzo
ZLV Stuttgart
Orust