Mobility Goes International (MobiGoIn) works for European companies (specially SMEs) that develop solutions in the Smart Mobility field, setting common grounds and strategies to allow a better and broader approach to the international market.

Here we present summaries of the analysis carried out within the projects. To access the full reports, please contact us directly!

MobiGoin Final event recording
The internationalisation strategy & target markets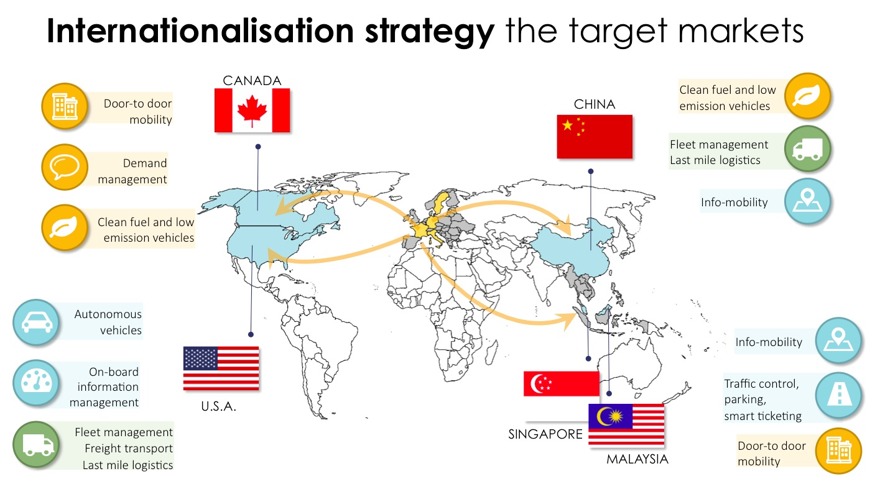 Taking into consideration some central aspects regarding the positive entrepreneurial environment facilitating foreign companies' investments (from a politic, legal and fiscal perspective), and considering opportunities and partnerships already established with some actors from these countries, the best destinations to target within the MobiGoIn project are:
Canada
China
Malaysia, Singapore and the South-East Asia
The United States of America
The map above shows the target third coutries and the smart mobility potential markets to be approached within each of them.

MobiGoIn defined the common specific objectives of its internationalisation strategy, which will guide the implementation of the strategy, in the following points:

European Strategic Cluster Partnerships reinforcement:
1 to reinforce trust and efficient working relations between all partners, with the aim of being internationally recognised as an excellence Partnership on smart mobility.

Competitive European Value chains on smart mobility building:
2 to implement a cross-sectorial approach where mobility technologies (EU emerging industry), ICT and digital media technologies address smart cities and communities' challenges;
3 to promote technology-based knowledge transfer among the involved territories, to encourage trans-border collaborations among European SMEs working on complementary innovative solutions, developing competitiveness and pursuing a smarter global mobility environment.

Internationalisation competencies and opportunities development:
4 to develop services (or use existing services from new partners) that, answering to companies identified needs and ambitions, will provide European SMEs with the right tools to go international;
5 to promote concrete potential technological and business partnerships and opportunities in the targeted third countries;
6 to promote concrete initiatives supporting the internationalisation of MobiGoIn SMEs in the targeted third countries.

The Map of competences & Scenario Design
MobiGoIn Consortium represents a total of circa 1100 SMEs, several of which are and will be involved in the definition of the activities of MobiGoIn's Internationalization Strategy. The SMEs insights will contribute to defining the services and actions that the Clusters will follow in order to support and strengthen the competitiveness of SMEs in the international Smart Mobility Market.

MobiGoIn's Map of competences and Scenario Design had the overall goal of defining future scenarios illustrating opportunity paths and potentialities for MobiGoIn SMEs. The approach adopted to meet this objective consisted in analysing the SMEs'competences mapped according MobiGoIn Smart Mobility Focus, and positioning them within the European and global markets in order to define future scenarios for internationalisation of their products, services and applications. As a result, the Map of competences assembles 274 SMEs profiles (27 from bwcon, 24 from Media Evolution, 66 from TOWL and 157 from Mov'eo), it is a competences matrix, composed by the branches, sub-segments and keywords, where the SMEs are classified according to their current positioning within the Smart Mobility field. MobiGoIn SMEs' Map of Competences is a useful tool, which allows the Consortium members to evaluate which SMEs are complementary to others and which competences are missing or need to be more developed, all in order to create potential value chains.

The analysis of the competences of MobiGoIn SMEs allowed the consortium to have a thorough knowledge of the expertise and the kind of solutions the small and medium enterprises from France, Italy, Germany and Sweden have to offer to the smart mobility market. Furthermore, a survey alow to have an insight regarding the market strategy and planning of the 74 SMEs that participated. In fact, 81% of the interviewed SMEs would like to expand their activities towards international markets. In parallel, it is interesting to pay attention to the level of readiness of the member SMEs in order to organize services which correspond with their needs and the market requirements. Being MobiGoIn's objective to support SMEs at the international scale, this analysis reveals that the SMEs would prefer to firstly go to European countries; considering the international scale (intended as "out of Europe") as the second step of the process. The main reasons of this choice are the experience level, cultural and legal barriers and the lack of precise information. So, MobiGoIn will help companies in being in contact with other European companies and start collaborating to generate synergies and value chains that can better approach an international market.

Smart mobility is a disruptive sector which progressed really quickly, then it is significant to always be attentive and analyse the new innovations and evolutions.
Results varied from focus group to focus group and country to country. Yet, participants identified certain trends, needs, promising third target countries, advantages as well as trajectories.

Many participating SMEs are concentrating on establishing good trade relationships in Europe before expanding beyond Europe. European countries of particular importance to most clusters' SMEs were Germany and the Scandinavian countries (Denmark and Norway). United States of America (USA) was mentioned in eight out of nine focus group sessions as a promising third target country to focus on. South East Asia and China are further promising third target countries/regions outside Europe.

Advantages of establishing an internationalisation strategy are to access new markets and thereby increase exports, find new funding, test new business ideas and share R&D efforts globally.

Commonly perceived trajectories and problems to internationalisation are of financial and cultural nature. Focus group session participants agreed that finding suitable local partners, especially sales partners, who can provide guidance within the local market, are key to succeed in a new market.

Most participants agreed that, in order to dare internationalising, they need reliable contacts with possible sales or technological partners, which could be established through matchmaking events and trade fairs.